The Walker's Haute Route is a spectacular trek from Chamonix to Zermatt. This 10-day journey is one of the world's top walks. We start in Chamonix at the foot of Mont Blanc and finish in Zermatt below one of the most iconic mountains in the world, The Matterhorn. Ten days of breath-taking mountain panoramas, challenging mountain passes and flower filled Alpine meadows.
The Walker's Haute Route is a variation of the original Haute Route following alpine trails below 3000m. It is not a technical hike but is a demanding high-level walk. A good level of fitness and some previous hillwalking or trekking is desirable to enjoy this outstanding trekking holiday.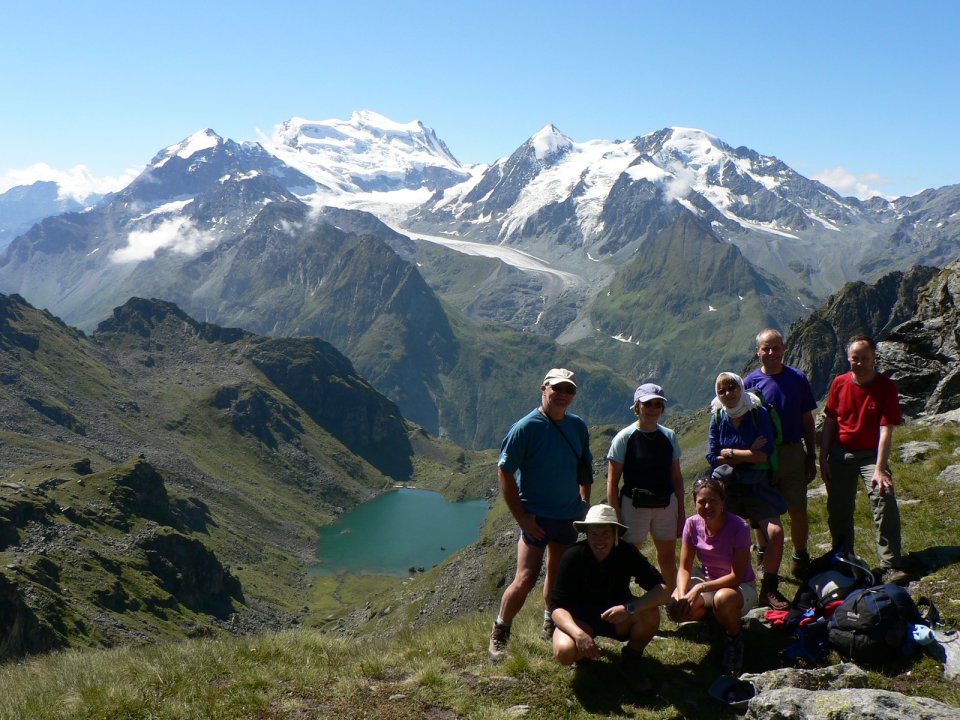 WHAT'S INCLUDED:
9 NIGHTS HOTEL ACCOMMODATION IN 2/3 STAR HOTELS ON TWIN/DOUBLE ROOM BASIS
1 NIGHT ACCOMMODATION IN 'AUBERGE' TYPE HOTEL
2 NIGHT ACCOMMODATION IN MOUNTAIN REFUGE
12 BREAKFASTS
9 EVENING MEALS
BAGGAGE TRANSFER ON MOST DAYS (SEE BELOW)
FULLY EXPERIENCED AND QUALIFIED INTERNATIONAL UIMLA MOUNTAIN LEADER
WHAT'S NOT INCLUDED
TRAVEL TO & FROM CHAMONIX/ZERMATT
3 EVENING MEALS (CHAMONIX, ZINAL, LAST NIGHT ZERMATT)
TRAVEL AND ACCIDENT INSURANCE (YOU MUST HAVE THIS AT START OF TREK)
ALL PACKED LUNCHES
ANY DRINKS
ANY TRANSPORT OUTWITH TREK ITINERARY
SINGLE ROOMS AVAILIABLE AT EXTRA COST
General trek details
This is a 10-day trek from Chamonix to Zermatt. We walk in Switzerland for the vast majority of the trek (First part of day 1 in France). Every day we have stunning views of Alpine peaks, glaciers, flower filled meadows, forests and small, historic Alpine villages.
The trails we walk along are generally excellent. There are steep sections throughout every day, up and down. There are sections of rougher, boulder like terrain with some slight exposure. Every day we will be walking up to at least 1 col (a high point, saddle) and steeply down the other side. There will be on average 1100m of ascent and descent each day.
Some days this will be more, up to 1500m. A good level of fitness is required to enjoy the trek. If you walk on a regular basis in the UK mountains and hills then this trek will be well within your comfort zone. If you have walked any Munro summits in Scotland then this will be similar type of terrain and length of day. If you don't have access to the hills in the UK then running and cycling are alternative forms to get fit for the trek. We highly recommend you get some hillwalking before the trek begins to enjoy it.
The weather is generally good in July/August. Temperatures are around 20-25 C in the valley but can be in single figures up high if there is cloud and wind. In mid-July there is usually some left over snow from the winter on the high passes but no winter equipment is required. By August this has usually gone. It can rain any time during the summer and there may be thunderstorms. These are usually late in the afternoon.
If (for whatever reason) you want to take a day or two off on the trek then most days there is public transport to get to the next section of the walk.
This is one of the finest treks in The Alps and much, much quieter than the likes of the Tour du Mont Blanc. I have guided The Walkers Haute over 30 times and it is one of my favourite treks.
Dates: 10th – 20th August 2021
Group size: Minimum 6, maximum 10
Price: £2850
Please contact me for full details and any questions