Ever thought of snowshoeing in Scotland? When the snow falls heavily, we get some amazing snow shoeing conditions here in The Cairngorms. Many days through the winter months we enjoy a good depth of snow right down to carpark level (635m) at Cairngorm ski resort. If you don't own your own snow shoes then these can easily be hired locally in Aviemore. If you've never experienced snow shoeing before then don't worry, the skills needed can very quickly be learned. The Cairngorm mountains offer perfect slopes for snow shoeing, many easy angled and broad ridges/plateau are ideal terrain.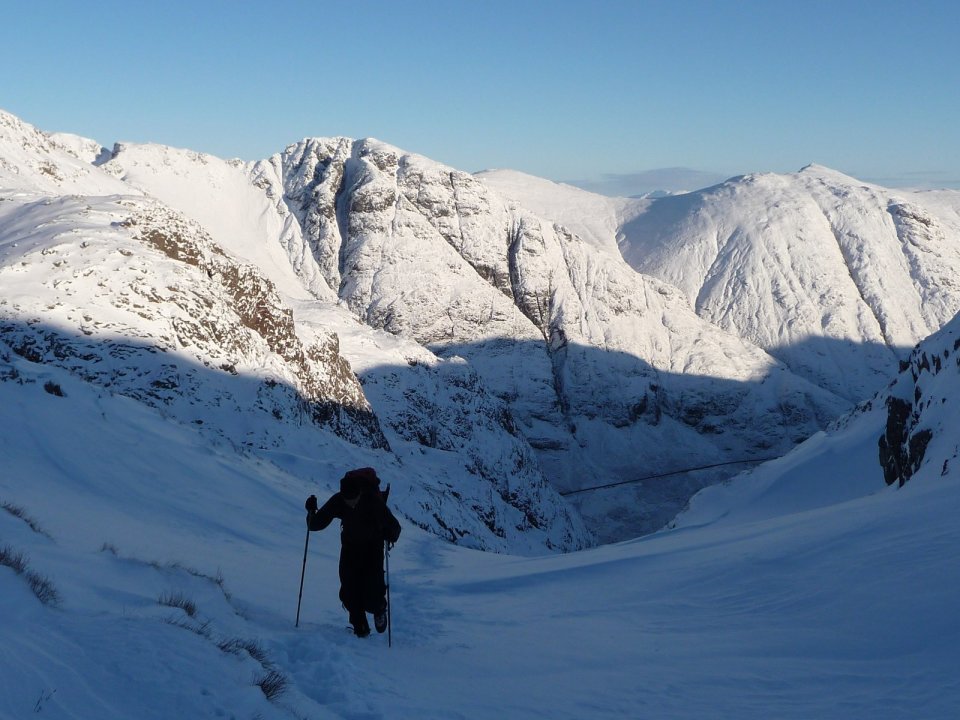 We start the day with a run down on how to fit the shoes and some basic techniques before heading out on the hills and a journey onto the lower slopes and high tops.
One of the many advantages of snow shoeing is the unnecessary need for ice axe and crampons. The images and preconceptions of 'tennis rackets' are long gone. Todays snow shoes are produced to a very high standard and have a lot of technical features to deal with varying snow depth, angles and even icy terrain.
This is a truly fun activity and a great day out to learn something new. It can also be the only way to get about on the mountains when we get a huge snowfall! Walking in shin to knee deep snow is very tiring and slow. With snow shoes it is far easier and more efficient.
Like all the other winter courses we offer we will also discuss weather forecasts and avalanche forecasts. These two important factors will dictate where we go on our 'journey'. We will plan to climb one of the Munros in the area. Cairn Gorm summit or Ben Macdui are good objectives and a great way to climb a Munro!
Venue: The Northern Cairngorms
Prices:
1 person £195 per day
2 people: £220
3 people £240
4 people £260
5 people £280
6 people £300
N.B Snow shoe hire for the day: £25