This 2 day Winter Skills course covers the skills required for staying safe in the Scottish mountains. It is our most popular course and weekend dates tend to fill quickly.
You will gain movement on snow and ice including step kicking and cutting, crampon technique, ice axe self-arrests, winter navigation, avalanche avoidance.
We aim to put these skills into context whilst on a mountain journey. The two days of coaching will allow you to get out into the mountains to practise and consolidate many skills.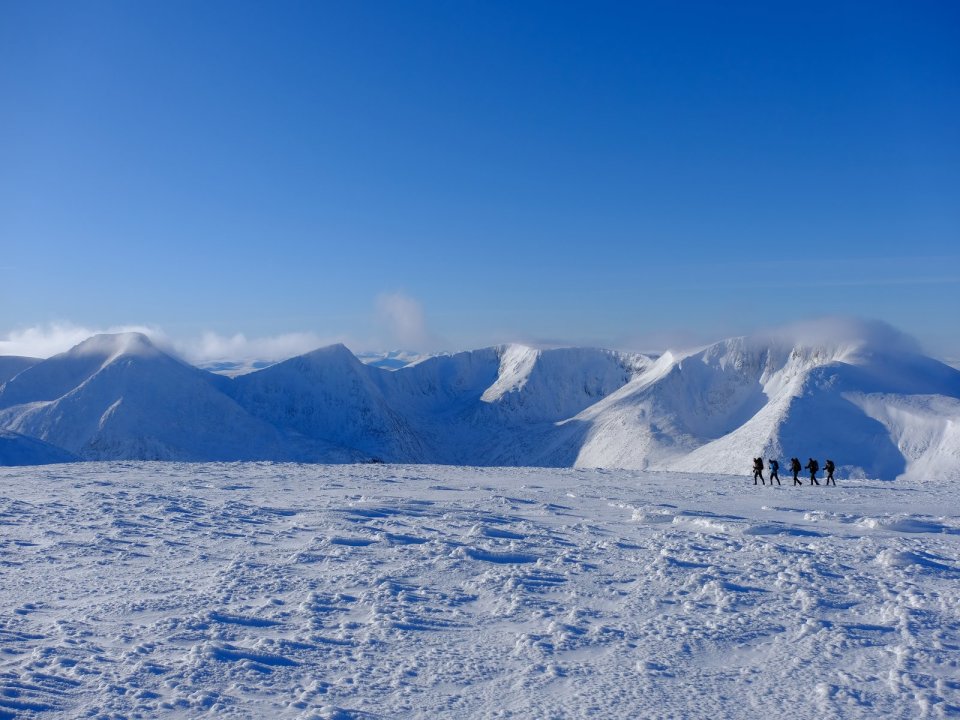 Winter Skills Course content:
Day One
We look at how to prepare for winter, what to carry, how to pack your bag. Every day we will look at weather and avalanche forecasts. These determine what we will do on that particular day and where we do it. Once on the mountain we will look at use of the boots for kicking and cutting steps efficiently and safely. Use of the ice axe will be the next stage of progression. How to use it correctly and effectively. This session will include stopping slips (ice axe arresting). We then move onto use of the crampons. Where to use them, when to put them on (and off) how to use them correctly. Depending on time, weather and snow conditions we may head onto one of the Cairngorm summits putting the skills into action.
Day Two
We will develop our personal movement skills on day two which includes cramponing and moving on steeper terrain. Today we look into more detail of avalanche awareness and snowpack analysis. We'll introduce winter navigation to this day and choosing a safe, efficient route. There will be opportunity to gain the high tops with a summit or two. If we have time and conditions dictate then we will look at emergency procedures including simple snow shelters.
Course venue: Northern Cairngorms
Dates: On demand
Prices:
1 person: £340
2 people: £380 ( £190 per person)
3 people: £420 (£140 per person)
4 people: £ 440 (£110 per person)
5 people: £ 470 ( £94 per person)
6 people: £510 ( £85 per person)
Please note: All course content is governed by weather and snow conditions on the day. It is subject to change & alteration.